---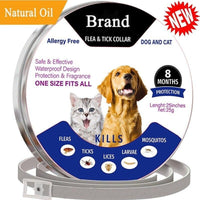 Description:   
Note:
Use with pets that are at least 8 weeks old
Do not use the container for food storage or other purposes
Do not let children play with the collar
Do not allow the dog to chew or eat the collar
Consult the veterinarian before using with sick, elderly or pregnant dogs.
Features:
1. adjustable size: 63.5 cm long.
2. Hypoallergenicity: Take such non-toxic, healthy materials and add non-allergenic ingredients, don't worry about pet allergies.
3. durable protection: normally, this product will last for eight months (even in water).
4. ingredients: Thirty percent (essential oil), seventy percent (TPE)
Material:Soft Rubber
Length:50cm/19.68""
Pattern:Solid
Season:All Seasons,Spring,Summer,Autumn,Fall,Winter
Feature:Quick Release,Cuttable,Adjustable,Easy to Use
Type:Collars,Flea Collar,Pet Protection
Life Stage:Puppy,Adult,Senior
Dog Weight:0 to 22 lbs.,4 to 10 lbs.,11 to 20 lbs.,21 to 55 lbs.,23 to 44 lbs.,45 to 88 lbs.
Target Audience:Dog,Cat,Other Animals