---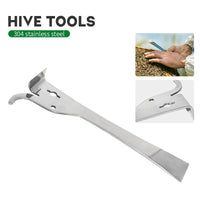 Mainly used for pushing the auxiliary cover, the trunk, the nest frame and the partition board after unpacking, can also be used for scraping propolis, epicanthus and dirt on the bottom, unscrewing small nail etc.
It is an necessity for managing bee colonies.
Exquisite workmanship, beautiful and practical. European style, a good helper for beekeeping work.