---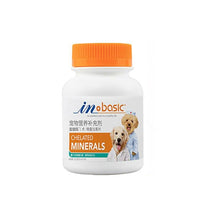 VITAMIN & MINERAL FORMULA
DIETARY SUPPLEMENT FOR DOGS TO ENSURE BONE GROWTH, TEETH AND MUSCLES
For adult dogs all breed
 (one package contains 150 tablets)
"Nature's Protection" Vitamin & Mineral Formula will provide the animal's organism with mineral substances and microelements, calcium, phosphorus (for a strong skeleton, bone structure, new teeth and muscles), yeast (for improved metabolism, appetite and digestion), algae powder (for better pigmentation) and vitally important vitamins.
Created for the optimal supply of vitamins, microelements, calcium and phosphorus to the body of an adult dog.
The optimum provision of vitamins and minerals – the supplement has larger concentrations of certain vitamins (vitamin A, B group vitamins: B₁, B₂, B₆, B₁₂).
If your pet's diet is lacking in essential nutrients for healthy development.
Compensating mineral deficiencies (with minerals essential for healthy growth: calcium, phosphorus, magnesium, iron).