---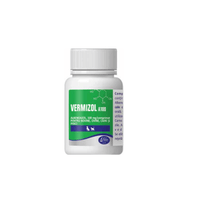 TARGET SPECIES: Cattle, sheep, dogs, cats
INDICATIONS: VERMIZOL A 100 is recommended in the treatment of the following endoparasites:
In cattle and sheep:
- Gastrointestinal nematodes: Haemonchus spp., Ostertagia spp., Trichostrongylus spp., Bunostomum spp., Cooperia spp., Nematodirus spp., Chabertia spp., Oesophagostomum spp.
- Pulmonary nematodes: Dictyocaulus spp., Protostrongylus spp., Müllerius spp.
- Cestodes: Moniezia spp.
- Adult trematodes: Fasciola spp., Dicrocoelium spp., Paramphistomum spp.
In dogs and cats:
- Gastrointestinal nematodes: Toxocara canis, Toxocara cati, Toxascaris leonina, Ancylostoma spp., Uncinaria spp., Trichocephalus spp.
- Cestodes: Dipylidium caninum.
COMPOSITION:
1 tablet contains:
Active substance:
Albendazole ……………………….……………….…...... 100 mg
Excipients: Microcrystalline cellulose q.s.ad ……….... 425 mg
CONTRAINDICATIONS:
It shall not be used in case of hypersensitivity to the active substance or to any of the excipients.
ADVERSE REACTIONS:
None reported. If you notice any serious reactions or other effects not stated in this leaflet, please inform your veterinarian.
ADMINISTRATION METHOD:
VERMIZOL A 100 is administered per bone in the following doses:
-
Cattle and sheep:
1 tablet/10 kg body weight/day, for 2 days in a row.
-
Dogs and cats:
1 tablet/10 kg body weight/day, for 2 days in a row.
In case of re-infestation, seek your veterinarian for advice regarding the frequency of the product administration and the need to repeat the treatment.

RECOMMENDATIONS FOR PROPER ADMINISTRATION:
In order to ensure the administration of a correct dosage, the body weight must be determined as accurately as possible.

WITHDRAWAL PERIOD:
Meat and offal: 28 days.
Milk: 7 days.